Family First Vision Care Trotwood
Your Neighborhood Doctors of Optometry at Pearle Vision
Across from Miller Hill Mall. Next to Starbucks.
Trotwood
Located inside Pearle Vision
US
5274 Salem Avenue
Trotwood

,
OH
45426
Hours of Availability:
| | |
| --- | --- |
| Monday | |
| Tuesday | |
| Wednesday | |
| Thursday | |
| Friday | |
| Saturday | |
| Sunday | Closed |
About Family First Vision Care Trotwood
Located inside Pearle Vision
Dr. John Womack
Your overall eye health is my number one concern as an eye care professional. Coupling this with the most current technology allows for me to examine, diagnose and treat diseases and disorders that affect your eyes and vision.
DID YOU KNOW YOUR VISION BENEFITS MAY EXPIRE SOON?
A friendly reminder from your neighborhood eye doctor to use your family's vision benefits* before they expire. Many vision plans do not roll over into the next year, so if you don't use your vision benefits you may end up losing them. Your insurance plan may cover eye exams, as well as prescription glasses, prescription sunglasses, and contact lenses. You may save even more if you have a Flex Spending Account (FSA) or Health Savings Account (HSA). Our doctors will thoroughly check your eyes to help detect any early signs of eye or health issues, so that you're ready to take on the new year. Come see us before the end of the year and get the most out of your vision insurance. Scheduling your appointment online is easy!

*Insurance plans may vary. Consult your benefits for details.
SCHEDULE NOW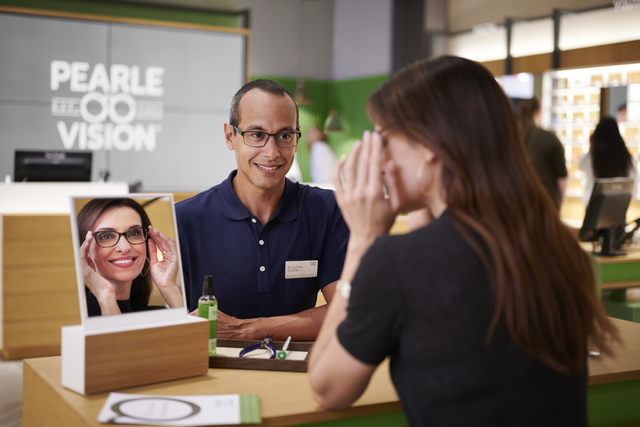 Your Next Eye Exam Visit
Your Yearly Eye Exam*
Annual eye exams are a recommended cornerstone for ensuring the health of your eyes. In addition to checking for changes in your vision and updating your prescription, your doctor* will also look at your overall eye health, internally and externally.
Prevention and early detection are keys to maintaining healthy eyes, as some eye health issues have no immediate symptoms but can still cause damage if left untreated. That's why regular check-ups are critical.
Wellness starts with being well-informed
During your eye exam, the Independent Doctor of Optometry* at or next to Pearle Vision may create a personalized Eye Health and Wellness Report to summarize your visit. In addition to noting any problems, conditions or diseases found during your eye exam, your Independent Doctor of Optometry may provide you with a report outlining the next steps you should take. It's a valuable tool some Independent Doctors of Optometry* offer to help you maintain and improve your eye health and vision.
What To Expect At Your Eye Exam*
You should never be kept in the dark about the health of your eyes and your vision. Yearly eye exams may last up to an hour or more depending on your individual needs and usually involve a variety of tests to make sure everything is looking great. The experienced eye care team will do everything they can to make the process effortless and eye opening.
Your optometrist may:
Provide the option to use a digital retinal exam such as Optomap® to gain an incredible 200-degree view of your eye's retina (the back of the eye). This improved scope aids your optometrist in diagnosis and prevention of various eye conditions and diseases, including macular degeneration, glaucoma and more
Frequently Asked Questions
When should I see an optometrist?
When should I see an optometrist?
1
You should see an optometrist once a year whether or not you believe you need vision correction. An annual eye exam can detect not only eye diseases but also other diseases like diabetes and high blood pressure. Schedule your eye exam today.
What should I bring to my eye exam?
What should I bring to my eye exam?
1
You should bring your vision insurance and medical insurance information to your eye exam. If you currently wear any prescription lenses, bring your eyeglasses, sunglasses, and contact lenses. You should also bring any and all questions you may have. Contact your optometrist if you have specific questions about any additional items you think you may need to bring to your eye exam.
How do I know if my child needs glasses?
How do I know if my child needs glasses?
1
Taking your child to an optometrist for an eye exam is the best way to learn if your child needs glasses. Many children who need glasses aren't aware that they do. Signs of vision problems in children include sitting too close to the television, squinting, sensitivity to light, difficulty with eye-hand coordination, and avoiding visual activities like reading and drawing. To see if your child needs glasses, schedule your child's eye exam today.
How does vision change with age?
How does vision change with age?
1
Changes in vision that occur with age include reduced pupil size, dry eyes, loss of peripheral vision, decreased color vision, and vitreous detachment. The most common vision problem that comes with age is presbyopia, which is the normal and unavoidable age-related loss of focusing ability. Different types of lenses can provide help for presbyopia. The risk of developing cataracts, glaucoma, and diabetic retinopathy increases with age too. Your optometrist will discuss any age-related vision problems you're experiencing at your next annual eye exam.
Who can wear contact lenses?
Who can wear contact lenses?
1
Nearly anyone who needs vision correction can wear contact lenses. Contact lenses can provide vision correction for people with nearsightedness, farsightedness, astigmatism, or a combination of these issues. Finding the perfect lens for you is sometimes a process of trial and error. All of the lens parameters can be finalized only after you've worn the successful combination. Schedule an eye exam to talk with your optometrist about whether contact lenses would be a good vision correction option for you.