Active Eyes Boulder
Your Neighborhood Doctors of Optometry at Pearle Vision
28th St. & Pearl
Pearl Street Center
Located inside Pearle Vision
US
2795 Pearl St
#100
Boulder

,
CO
80302
Hours of Availability:
| | |
| --- | --- |
| Monday | |
| Tuesday | |
| Wednesday | |
| Thursday | |
| Friday | |
| Saturday | |
| Sunday | Closed |
About Active Eyes Boulder
Located inside Pearle Vision

Lisa Hamilton
Lisa Hamilton, O.D.
Dr. Lisa Hamilton is a Diplomate of the American Board of Optometry. She graduated from the University of Houston College of Optometry in 1997. She then moved to Denver and worked at the Dishler Laser Institute where she performed pre-Lasik consultations and post-Lasik evaluations and was the ?Center Director? from 1999-2002.
Dr. Hamilton jointed Pearle Vision in 2002 with a sub-lease optometry office located at Pearle Vison in Littleton, Colorado. In 2010, she opened a start-up Pearle Vision franchise located in Centennial, Colorado with her husband Bobby who is an ABO Certified Optician.
Dr. Hamilton has been active in the OneSight Foundation personally serving on 6 global missions to Mexico, Ecuador, Chile, Honduras and South Africa.
Dr. Hamilton specializes in the management and treatment of dry eyes, glaucoma and specialty contact lens fitting including scleral lenses.
In her spare time, Dr. Hamilton enjoys skiing, biking, and hiking with her husba
Read More
Read Less

J. Tyler Klein
As an optometrist, I put your eye care first. I'll provide you with the best in eye health services, like comprehensive eye exams, vision correction and diagnosis of related conditions. I make it a priority to ensure an easy, straightforward and satisfactory experience. I look forward to serving your specific vision needs.
Read More
Read Less

Lisa Pallagi
Dr. Pallagi provides compassionate and comprehensive eye care to all her patients. She offers
routine eye exams, contact lens fittings, and treatment and management for eye disease such as
glaucoma, diabetes, macular degeneration, and cataracts.
She earned her BA in Integrative Physiology from the University of Colorado Boulder. Dr. Pallagi
then received her optometric doctorate from Pacific University in Forest Grove, Oregon.
Read More
Read Less
Insurance Plans:
Aetna
Anthem
Eyemed
Humana
Medicaid
Medicare
Spectara-UHC Vision
Superior Vision
United Health Care
VSP
TriCare
Exam Fees:
Please call to see if your insurance plan covers partial or full exam fees.
Eye Exam Starting Fee $128.00 Includes Dilation
Contact Lens Starting Fee $183.00 Includes Fitting Fee,Includes Eyeglass Exam
Dilation Fee $0.00
Payment Types Accepted:
American Express
Cash
Check
Discover
MasterCard
Visa
SCHOOL SHOULD START WITH AN EXAM
Did you know that 1 in 4 school-age children has a vision problem? An important part of a healthy lifestyle for your entire family starts with annual eye exams. Children's eye problems can easily go undetected – just because your child isn't squinting or complaining about his or her eyes, doesn't mean there isn't an issue. Early treatment can stop bigger problems and detect vision issues down the road. We can help provide prescriptions for the whole family with glasses, sunglasses and contact lens options. Keep your family healthy and happy this school year, by coming to see us for your annual eye exams today.
Schedule Now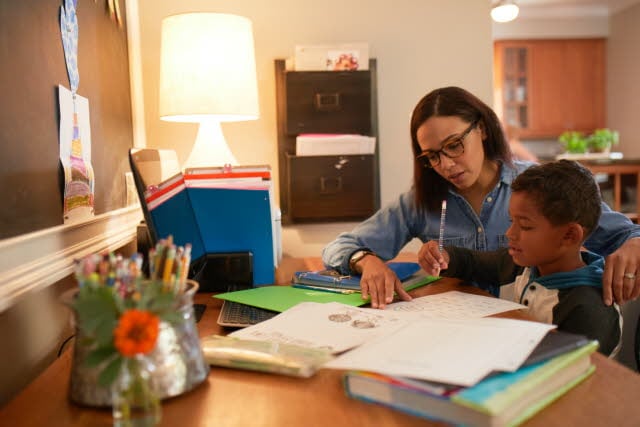 Your Next Eye Exam Visit
Your Yearly Eye Exam*
Annual eye exams are a recommended cornerstone for ensuring the health of your eyes. In addition to checking for changes in your vision and updating your prescription, your doctor* will also look at your overall eye health, internally and externally.
Prevention and early detection are keys to maintaining healthy eyes, as some eye health issues have no immediate symptoms but can still cause damage if left untreated. That's why regular check-ups are critical.
Wellness starts with being well-informed
During your eye exam, the Independent Doctor of Optometry* at or next to Pearle Vision may create a personalized Eye Health and Wellness Report to summarize your visit. In addition to noting any problems, conditions or diseases found during your eye exam, your Independent Doctor of Optometry may provide you with a report outlining the next steps you should take. It's a valuable tool some Independent Doctors of Optometry* offer to help you maintain and improve your eye health and vision.
What To Expect At Your Eye Exam*
You should never be kept in the dark about the health of your eyes and your vision. Yearly eye exams may last up to an hour or more depending on your individual needs and usually involve a variety of tests to make sure everything is looking great. The experienced eye care team will do everything they can to make the process effortless and eye opening.
Your optometrist may:
Provide the option to use a digital retinal exam such as Optomap® to gain an incredible 200-degree view of your eye's retina (the back of the eye). This improved scope aids your optometrist in diagnosis and prevention of various eye conditions and diseases, including macular degeneration, glaucoma and more
Frequently Asked Questions
When should I see an optometrist?
When should I see an optometrist?
1
You should see an optometrist once a year whether or not you believe you need vision correction. An annual eye exam can detect not only eye diseases but also other diseases like diabetes and high blood pressure. Schedule your eye exam today.
What should I bring to my eye exam?
What should I bring to my eye exam?
1
You should bring your vision insurance and medical insurance information to your eye exam. If you currently wear any prescription lenses, bring your eyeglasses, sunglasses, and contact lenses. You should also bring any and all questions you may have. Contact your optometrist if you have specific questions about any additional items you think you may need to bring to your eye exam.
How do I know if my child needs glasses?
How do I know if my child needs glasses?
1
Taking your child to an optometrist for an eye exam is the best way to learn if your child needs glasses. Many children who need glasses aren't aware that they do. Signs of vision problems in children include sitting too close to the television, squinting, sensitivity to light, difficulty with eye-hand coordination, and avoiding visual activities like reading and drawing. To see if your child needs glasses, schedule your child's eye exam today.
How does vision change with age?
How does vision change with age?
1
Changes in vision that occur with age include reduced pupil size, dry eyes, loss of peripheral vision, decreased color vision, and vitreous detachment. The most common vision problem that comes with age is presbyopia, which is the normal and unavoidable age-related loss of focusing ability. Different types of lenses can provide help for presbyopia. The risk of developing cataracts, glaucoma, and diabetic retinopathy increases with age too. Your optometrist will discuss any age-related vision problems you're experiencing at your next annual eye exam.
Who can wear contact lenses?
Who can wear contact lenses?
1
Nearly anyone who needs vision correction can wear contact lenses. Contact lenses can provide vision correction for people with nearsightedness, farsightedness, astigmatism, or a combination of these issues. Finding the perfect lens for you is sometimes a process of trial and error. All of the lens parameters can be finalized only after you've worn the successful combination. Schedule an eye exam to talk with your optometrist about whether contact lenses would be a good vision correction option for you.
Insurance Plans:
Aetna
Anthem
Eyemed
Humana
Medicaid
Medicare
Spectara-UHC Vision
Superior Vision
United Health Care
VSP
TriCare
Services Offered:
Walk-in Exams
Same Day Exams
Pediatrics
Digital Retinal Imaging
Medical Eye Exams
Computer Vision
Exam Fees:
Please call to see if your insurance plan covers partial or full exam fees.
Eye Exam Starting Fee $128.00 Includes Dilation
Contact Lens Starting Fee $183.00 Includes Fitting Fee,Includes Eyeglass Exam
Dilation Fee $0.00
Payment Types Accepted:
American Express
Cash
Check
Discover
MasterCard
Visa