Family First Vision Care - EastMark
Your Neighborhood Doctors of Optometry at Pearle Vision
Opening Soon
Located inside Pearle Vision
US
24775 N. Lake Pleasant Pkwy
Mesa

,
AZ
85212
Hours of availability
Doctor hours vary. Please call the office for availability.
About Family First Vision Care - EastMark
Located inside Pearle Vision
Dr. John Womack
Your specific eye care needs are my number one priority. As an optometrist, I will educate you on overall eye health and examine your eyes with state of the art technology. I would be thrilled to serve as your eye doctor and answer any questions you may have on your vision needs.
NOW IS THE PERFECT TIME TO GET YOUR EYE EXAM
A great New Year starts with healthy eyes, and the good news is your vision benefits might have renewed at the start of the year. Don't forget there are also many options for how you can use your Flex Spending Account (FSA) or Health Savings Account (HSA) dollars. Consider purchasing an extra pair of eyeglasses, prescription sunglasses as a backup, or take this opportunity to try contact lenses. Your FSA dollars may be expiring soon, so don't wait! As your neighborhood eye doctor, we will work with all major health and vision plans. You'll always get the eye care you deserve, and now is a great time to come in. We can help you get the most out of your annual visit, so schedule your eye exam today.

*Insurance plans may vary. Consult your benefits for details.
Schedule Now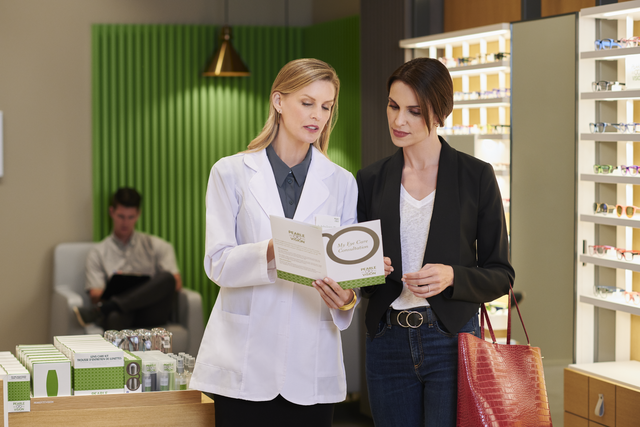 Your Next Eye Exam Visit
Your Yearly Eye Exam*
Annual eye exams are a recommended cornerstone for ensuring the health of your eyes. In addition to checking for changes in your vision and updating your prescription, your doctor* will also look at your overall eye health, internally and externally.
Prevention and early detection are keys to maintaining healthy eyes, as some eye health issues have no immediate symptoms but can still cause damage if left untreated. That's why regular check-ups are critical.
Wellness starts with being well-informed
During your eye exam, the Independent Doctor of Optometry* at or next to Pearle Vision may create a personalized Eye Health and Wellness Report to summarize your visit. In addition to noting any problems, conditions or diseases found during your eye exam, your Independent Doctor of Optometry may provide you with a report outlining the next steps you should take. It's a valuable tool some Independent Doctors of Optometry* offer to help you maintain and improve your eye health and vision.
What To Expect At Your Eye Exam*
You should never be kept in the dark about the health of your eyes and your vision. Yearly eye exams may last up to an hour or more depending on your individual needs and usually involve a variety of tests to make sure everything is looking great. The experienced eye care team will do everything they can to make the process effortless and eye opening.
Your optometrist may:
Provide the option to use a digital retinal exam such as Optomap® to gain an incredible 200-degree view of your eye's retina (the back of the eye). This improved scope aids your optometrist in diagnosis and prevention of various eye conditions and diseases, including macular degeneration, glaucoma and more